Two-Ball Shuffle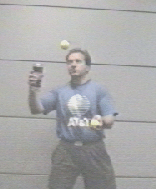 Dan Bennett demonstrate the Two Ball Shuffle.
Hand with ball tosses a reverse cascade to opposite hand.
Hand with can flips the can to opposite hand.
Ball that rolls out of can is caught by the same hand that threw the can.
Receiving hand catches can and mouth catches first ball tossed.